Be sure to "Like" greenmomster on Facebook!
It's time for the monarch butterfly migration toward Mexico! In past posts, I've written about the monarchs, planting a butterfly garden, and even butterfly book reviews. This time, I thought I'd show you how easy it is to tag monarchs, using tags from Monarch Watch. I spent a recent fall afternoon helping tag monarch butterflies at Sky Meadows State Park in VA.
It's easy! You simply catch the butterfly, attach a tag to the wing area that looks like a tiny mitten (the program provides diagrams), and then release the butterfly!
This strong little insect will then attempt to fly all the way to Mexico, and you've just provided a valuable tool to scientists who are trying to learn about migration patterns and population size.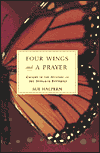 Want to learn more about the monarchs and their migration? Be sure to check out Four Wings and a Prayer by Sue Halpern.