I really like this week's recipe, because of the Italian spices – a nice little twist on regular tomato soup!
Ingredients
2 tblsp olive oil
1 onion, chopped (I used red onion, which worked out well)
2 garlic cloves, minced (I used 2 tblsp of the jar garlic)
2 tsp sea salt
2 tsp Italian seasoning (I upped the spices a little and used 1 tblsp dried basil and 1 tblsp dried oregano)
1/4 tsp crushed red pepper
1 (28 oz) can fire-roasted tomatoes (I used diced, but you can use whole)
3 cups vegetable broth (I think I used 4 cups)
1 cup canned coconut milk (I used regular skim milk)
2 tblsp brown sugar
Instructions
Heat oil in a large pot and saute onion until soft
Add in garlic, salt, Italian seasoning, and red pepper. Cook briefly, maybe a minute or two.
Add tomatoes and broth, and bring to a boil.
Use a blender or a blender stick (my choice) to puree the soup.
Add milk and brown sugar and reheat.
Enjoy! This recipe is adapted from one I found in a fun new vegan cookbook called Chloe's Vegan Italian Kitchen, by Chloe Coscarelli.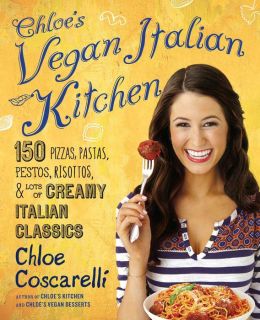 Be sure to "like" greenmomster on Facebook for even more green news and cooking!