So last week you were overrun with zucchini, so you stuffed it. This week, you can try this tasty and very easy recipe from
101 Things to Do With Zucchini
by C. Ducan and G. Patrick.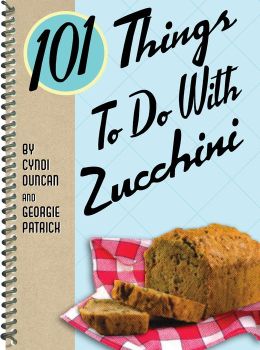 Spicy Zucchini Pasta
Ingredients
8 oz. pasta
4 small zucchini, thinly sliced
2 cloves garlic , minced
4 tblsp olive oil
2 cans (15 oz. each) Rotel or tomatoes with spicy peppers
1 tblsp dried parsley
2 tsp dried oregano
1/4 to 1/2 tsp crushed red pepper flakes
1/8 to 1/4 cup grated Parmesan cheese
Instructions
Cook pasta.
In a medium frying pan, saute zucchini and garlic in oil until zucchini is tender. Add tomatoes, parsley, oregano, and red pepper flakes.
Drain pasta and top with zucchini mixture.
Sprinkle with Parmesan cheese. Enjoy!