Here's another great recipe from
Michael Symon's 5 in 5
– if you haven't picked up this cookbook yet, you should! Very easy and very tasty!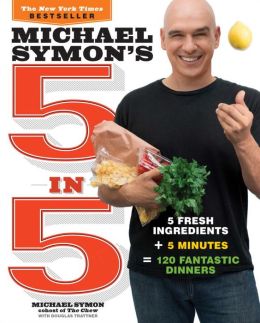 Ingredients
2 tblsp butter
4 cups fresh (1 frozen package – be sure to squeeze out excess water) spinach
salt and pepper to taste
8 large eggs
1/4 cup heavy cream
1/2 cup crumbled feta cheese
Instructions
Preheat broiler to 450 degrees
Heat a large, non-stick, oven-proof skillet on the stove and melt the butter. Add spinach and salt, stirring until the spinach is wilted.
In a bowl, whisk together the eggs and cream. Season to taste with salt and pepper.
Add egg mixture to spinach and cook, stirring, until eggs are still a little runny, but starting to firm up.
Top with feta (I did half with feta and half without, for our non-feta eaters) and put under broiler for about 2 minutes (allow feta to soften).
Enjoy!