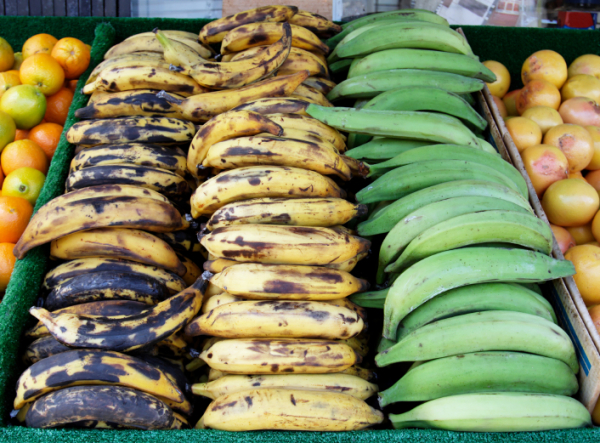 I love plantains, so imagine my joy when I saw a recipe for tacos with grilled plantains! Not only are plantains tasty, they're CHEAP!! I made enough tacos for my family of 5 with about $1.50 worth of plantains. This recipe comes from the Washington Post. The only changes I made to the recipe were:
I fried the plantains in a frying pan, rather than on the grill

I used red pepper flakes, rather than ancho chili powder

I didn't toast the pumpkin seeds

I squirted the plantains with spray olive oil, rather than brushing them.
Other than those changes, the recipe stands as written by the "Weeknight Vegetarian" on April 13, 2015.
Ingredients
2 teaspoons extra-virgin olive oil, plus more for coating the grill

2 medium semi-ripe plantains, peeled (about 1 1/4 pounds; see headnote)

Finely grated zest and juice from 1 lime (1 tablespoon zest and 1 tablespoon juice)

1/2 teaspoon salt, or more as needed

1 teaspoon ground ancho chili powder

Eight 6-inch corn tortillas

2 cups packed shredded red cabbage

1 cup homemade or store-bought salsa verde (see related recipe)

3/4 cup toasted pumpkin seeds (see NOTE)
Instructions
"Prepare a grill for direct heat. If using a gas grill, preheat to medium (350 degrees). If using a charcoal grill, light the charcoal or wood briquettes; when the briquettes are ready, distribute them under the cooking area for direct heat. For a medium-hot fire, you should be able to hold your hand about 6 inches above the coals for about 4 or 5 seconds. Have ready a spray water bottle for taming any flames. Lightly coat the grill rack with oil and place it on the grill.

Brush the plantains with the oil. Grill them, turning as needed, until they are lightly charred on several sides, 5 to 10 minutes total. Transfer to a cutting board and cut into slices or bite-size pieces, then toss them in a large bowl with the lime zest and juice, 1/2 teaspoon salt and the chili powder. Taste, and add salt as needed.

Warm the tortillas on the grill for 5 seconds per side (to make them pliable); divide among individual plates. Fill each tortilla with 1/4 cup cabbage, a few pieces of plantain and a few tablespoons of salsa. Evenly distribute all the pumpkin seeds. Serve warm.

NOTE: To toast the pumpkin seeds, heat a large, heavy skillet over low-to-medium heat. Add the pumpkin seeds and cook, tossing them occasionally, until the seeds are fragrant and slightly puffed, 5 to 7 minutes. Cool completely before using."