Like getting your meat-free Friday recipes? Then be sure to "
Like" greenmomster
on Facebook!
Here's a recipe I've adapted from one of my favorite cookbooks,
A Beautiful Bowl of Soup
, by Paulette Mitchell. This soup is really tasty, particularly when you add the black olive caviar and garnishes!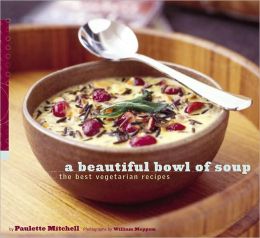 Ingredients
For the soup
:
3 tblsp butter
1 cup coarsely chopped onion
5 cups veggie stock
2 Yukon Gold potatoes, peeled and cut into 3/4 inch chunks (about 3 cups)
1 tsp chopped garlic
For the caviar
:
1 cup chopped pitted black olives
2 tblsp chopped fresh parsley
1 tblsp olive oil
2 tsp chopped garlic
salt, pepper, and red pepper to taste
For the garnish
:
2 hard boiled eggs, crumbled
sour cream
Instructions
1) To make the soup, melt the butter in a large pot. Add the onion and saute until tender. Stir in the veggie stock, potatoes, garlic, and salt and pepper to taste. Increase the heat to high and bring to a boil. Reduce the heat and simmer until potatoes are very tender. With a potato masher, mash the potatoes until half are mashed and half are still in chunks.
2) To make the caviar, mix all ingredients in a small bowl.
3) Serve the soup topped with caviar, hard boiled eggs, and sour cream. Yum!