Over the holidays, I found the perfect vacation read – Following Atticus by Tom Ryan. I love books about dogs. Merle's Door? But, of course. A Three Dog Life? Wouldn't miss it. Marley and Me? Been there. Herriot's Dog Stories? Done that. Anything by Jon Katz? Got the t-shirt. I also really enjoy books about adventures outdoors.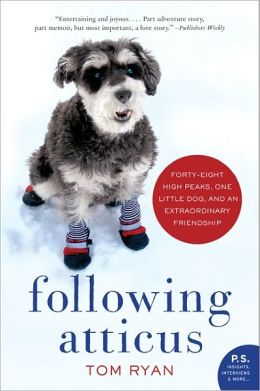 Following Atticus combines these two great topics into a very entertaining book. Tom Ryan was the owner and publisher of a small newspaper in Newburyport MA, when he found himself the unexpected owner of a little schnauzer named Max. Tom and Max became each other's best friends, even though their time together was relatively short. Still mourning the loss of his little friend, Mr. Ryan found his next best friend – Atticus M. Finch (see book cover).
Don't let Atticus' small size fool you – this little guy was born to hike. Thanks to Atticus' passion for the great outdoors, Mr. Ryan began a life-changing challenge. As stated on the back cover of the book, "After a close friend died of cancer, middle-aged, overweight, acrophobic newpaperman Tom Ryan decided to pay tribute to her in a most unorthodox manner." He and Atticus began hiking for charity. They hiked for an entire summer, conquering New Hampshire's 4,000 foot peaks. Next they attempted to hike all 48 peaks again, but this time during the winter AND twice each!
Using descriptive language that puts the reader right in the snowy New Hampshire mountains, Mr. Ryan skillfully leads the reader along each path. He also leads the reader along his path of self-discovery, writing about his relationship with his father, his brothers, and even with the breeder who brought him together with Atticus. Although, at times, I could've skipped one or two of the hike descriptions, I found this book to be very well-written, entertaining, and honest. Makes me want to tie on my hiking boots and hit the trail – and I'm sure my dogs wouldn't my joining me. Of course, since I'm not quite as hardy as Mr. Ryan, I think I'll just re-read his book until the weather turns nice and warm!
Be sure to check out Tom and Atticus' blog, home of this book trailer: