A Beautiful Bowl of Soup
by Paulette Mitchell, you're really missing out. This week's recipe (I usually double it for a family of five) is one of my favorites from this book – a perfect dinner for a cool fall evening.
Be sure to "like"
greenmomster on facebook
for all the latest updates!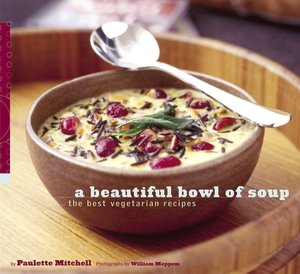 Ingredients:

4 tblsp unsalted butter

1 carrot, finely chopped

1 celery stalk, finely chopped

1/2 finely chopped onion

3 tblsp all-purpose flour

3 cups vegetable broth

1 1/2 cups cooked wild rice

1/2 cup dried cranberries

1 cup milk or half-and-half

2 tblsp dry sherry (I use cooking sherry)

salt and pepper to taste


Instructions:

1) Melt the butter in a large pot. Add carrot, celery and onion, cooking until carrot is tender.

2) Add the flour and stir until smooth. Add the vegetable stock, whisking constantly to prevent lumps. Cook until the mixture starts to thicken.

3) Stir in rice and cranberries. Simmer until cranberries are plump.

4) Stir in milk, sherry, salt and pepper.

If you haven't yet discovered the vegetarian cookbook