This week's meat-free Friday recipe comes to us from Barbara Kingsolver in her book Animal, Vegetable, Miracle: a Year of Food Life. If you haven't yet read this book, I highly recommend it. Barbara Kingsolver is one of my favorite authors, and in this book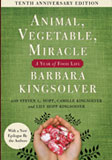 she investigates the practicality of eating entirely local food for one year. Her family agrees to try to eat locally (from local farmers, as well as their own garden produce and meat) for one year, with the exception of one or two items that each person can choose at the beginning of the year (coffee was the big exception for Kingsolver's family; my choice would have been my BIG glass of o.j. that gets the day started). Kingsolver is very honest about what works and what doesn't, and she includes helpful recipes that include seasonal ingredients. Today, we'll be using Ms. Kingsolver's recipe for pizza crust – top it with whatever floats your boat, bake at 425 degrees for 15-20 minutes, and enjoy!
Friday Night Pizza
Ingredients
(Makes two 12-inch pizzas)
3 TSP. YEAST
1½ CUPS WARM WATER
3 TBS. OLIVE OIL
1 TSP. SALT
2½ CUPS WHITE FLOUR
2 CUPS WHOLE WHEAT FLOUR
Instructions
1) Dissolve the yeast into the warm water. Add oil and salt to the mixture.
2) Mix the flours and knead them into the liquid mixture.
3) Let dough rise for 30 to 40 minutes.
4) Once the dough has risen, divide it in half and roll out two
round 12 inch pizza crusts. Using a spatula, slide the crusts onto well-
floured pans or baking stones and spread toppings.